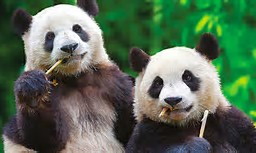 Ouwehands Dierenpark Grebbeweg 111 Rhene
Of je nu gorilla's bewondert op tien meter hoogte in de Gorilla Adventure of vanuit de nieuwe observatiepost de beren bespied in Het Berenbos. Er valt altijd iets nieuws te ontdekken in Ouwehands Dierenpark!
Heb je altijd al een reuzenpanda in het echt willen bewonderen? Ook dat kan in Ouwehands Dierenpark in pandaverblijf alwaar u kunt genieten van Pandasia. Xing Ya en Wu Wen.
Tickets maandag t/m zondag
Vanaf 10 jaar € 15,00 p.p.
3 t/m 9 jaar   € 12,50 p.p.
t/m 2 jaar           Gratis
Hond             € 5,00 p.h.