Datum: 15/12/2018 (10:00)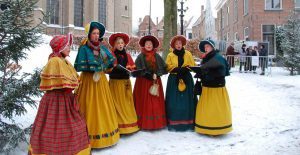 Saturday 15 december 2018
Christmas market in Deventer. Deventer belongs absolutely to the most romantic towns in the Netherlands. This city has fifteenth-century streets that lead to beautiful old churches. The city offers many unique shopping opportunities. The Christmas market can be found under the tower at the large graveyard.
You can find here an authentic ' atmosphere ' in Deventer because of the high number of locals on the market, with 75 stalls. The patio of the Church is full of tasty snacks that are genuine and locally produced.
Dickens Festival may be the reason to visit Deventer this Christmas. At the Deventer Schouwburg you will be surprised by the great Dickens show. The characters from the famous books come to life.
Oliver Twist and Scrooge roam freely and are accompanied by almost 1,000 actors who are all clothed in the nineteenth-century style. The whole society is here present. The high-society, the middle class and also orphans.
The bus will leave at 10.00 hrs from the CUMC/PVOC and will arrive at 11.30 hrs in Deventer. The bus will depart at 18.30 hrs. The costs are limited to the bus trip. For CU/PV members €13.00.
For €17.00 you can register guests, to apply register before Thursday 29 November 2018.
Payment to the bank account of the TU/e staff association Deurne IBAN: : NL90INGB0001084897, onder vermelding: Kerstmarkt Deventer
Minimal 30 max 50 people
< Back to the calendar