Datum: 08/11/2018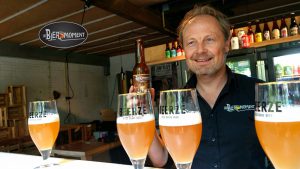 For lovers of beer, we are organizing a 'beer tasting' evening with snacks. We have invited Hans Walravens, international beer sommelier;
A beer sommelier is someone who specializes in beer and beer-food combinations. The evening will consist of a presentation, guidance and trial technique. During the trials therr will be a description of the various beers. The theme of this evening is "Blind". We have chosen to keep it exciting, so the surprise will be great. The presenter of ' the beer moment ' claims that we can taste the kind of beer. Six beers will be tasted. The presentation is accompanied by anecdotes and some knowledgeable questions. The winner will receive a small gift. The cost for the tasting, including snacks, €18, for members. Guests pay €25,
Maximum: 30 participants.
You can register, before Saturday 3 november 2018. Payment is to be made to the bank account the bank account of the Personeelsvereniging TU/e Deurne IBAN: NL90INGB0001084897, under the name: "Bierproefavond 8 november 2018".
Oeps! We konden je formulier niet vinden.
< Back to the calendar